Croats were baffled, while Slovenians cheered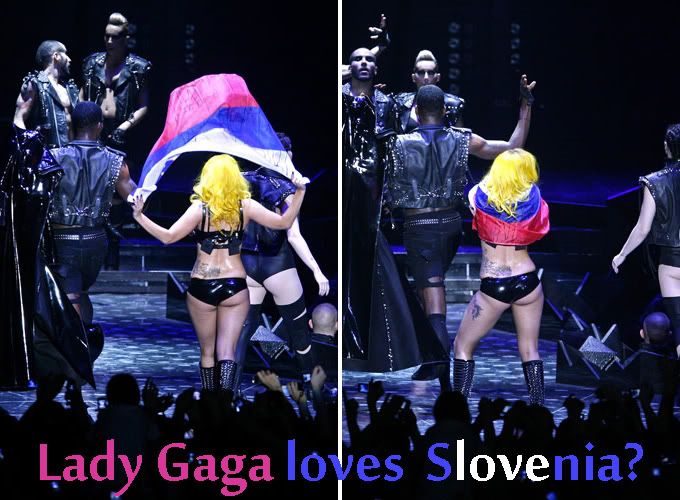 Lady Gaga loves Slovenia!
Well, she probably does not. But that's what Slovenian netizens think today. She had a concert yesterday in
Zagreb
, in the capital city of our neighboring country Croatia. Since Zagreb is so close to Slovenia, a lot of our people also went to the concert. But the crowd was not only full of Croats and Slovenians, there were many Italians, Austrians and Hungarians, she attracted people from all over the region. Well, the concert would not be so noteworthy, if there wasn't an incident, that left the Croatian fans baffled and the Slovenian fans stunned. A Slovenian female fan, who wrote on the flag "
Italian girl from New York, my only love"
for her (
see here
), threw it on stage and Gaga picked it up. She wrapped herself in the flag and continued dancing and singing, but
dropped it few seconds later
(so it was like nothing...) But those photos are now all over the web. You can imagine that many Croats weren't amused, especially because the relations between our countries have been strained for the past 20 years, but especially in the recent years, when a border dispute (
read here
) heated up like never before. Slovenian and Croatian netizens constantly provoke each other online, they come to our forums, we come to theirs. Our languages are pretty similar and it's not hard to learn few phrases and go to the opposite forum and be a jerk. And today the provocations continued. Croats were bitter, some angry at Lady Gaga and wondering, if she did that on purpose, while our Slovenians were overly proud and full of silly remarks.
Can't we all just take a chill pill and relax? She probably had no clue which country's flag that was, nor did she care, if she'll upset anyone. She didn't mean to offend Croats, nor did she express love for Slovenia. I hope those Slovenians, who are now full of national pride, would be fine, if she waved a Croatian flag in
Ljubljana
and I hope that those Croats, who are now offended, would be equally critical, if their flag would be waved in Slovenia. But I'm afraid both sides would react the same, just the roles would be exchanged...
How would you feel, if a singer waved a flag of a foreign country on a concert in your country?