An exceptional Taiwanese woman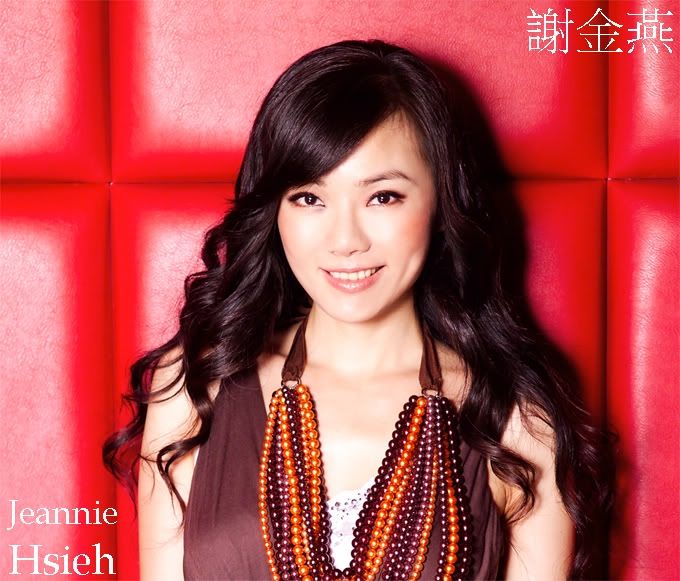 Xie Jin Yan
aka
Jeannie Hsieh
(or
Chinese
謝金燕) is a famous Taiwanese singer and actress and for me an
exceptional Taiwanese woman
. And you will probably agree with me later. I must say I was not familiar with her until recently. My girlfriend shared one of Jeannie's latest songs with me and asked me to guess how old she was. Well, I would like you to do the same here. Check her latest video to the song
Beep Beep Beep
(嗶嗶嗶) and then tell me how old do you think she is?
Enjoy "Beep Beep Beep, Jeannie Hsieh's most famous song.
Enjoy "Beep Beep Beep" live...
She looks hot, doesn't she? And she's famous for her legs. When it comes to her age, I suppose your guess was something like 25? 27? I remeeber mine was 26. Anyhow, to reveal the big secret: Jeannie will be 36 this December! Not only that, she's also a mommy. Amazing, huh?
Xie Jin Yan
謝金燕 was born in
Kaohsiung
on Christmas in 1974. Her father is also a famous Taiwanese artist named
Zhuge Liang
(豬哥亮, real name
Xie Xin Da 謝新達
). She entered show business in 1990 at a very young age (she was barely 16). She was chosen "Miss legs" (美腿小姐) in a TV variety show (which is not surprising, since her legs are seemingly endless. She's 170cm tall, so no wonder.) and soon after new opportunities emerged for her. She started to act in movies and drama. She released her first music album in 1993. But she really rose to fame after 2000, when she changed her music style to electronic dance. Her best year was
2005
with many smash hits as well as this year, when she returned with her dance hit
Beep Beep Beep
(video above), which is sung in Cantonese, Mandarin, Taiwanese and English. She usually sings in
Taiwanese
(which is similar to Hokkien Chinese) and commonly spoken around Taiwan. Jin Yan is an exceptional woman, because she's one of those East Asian pop stars, who just keep going even after the dreaded age of 30. Her music style may not be what I would listen to, but I admire her for looking dazzling and remaining popular at age 36 in a genre that's usually dominated by teenagers. Few years ago it was normal that East Asian pop artists ended their careers when they hit 30. But in recent years stars like
Lee Hyori
,
Ayumi Hamasaki
and
Namie Amuro
go against this trend and they're better than ever before. Maybe that "old wine tastes better" analogy could be applied to these artists here. Anyway, you can check two more videos of Jeannie below.
A ballad.
One of her best songs.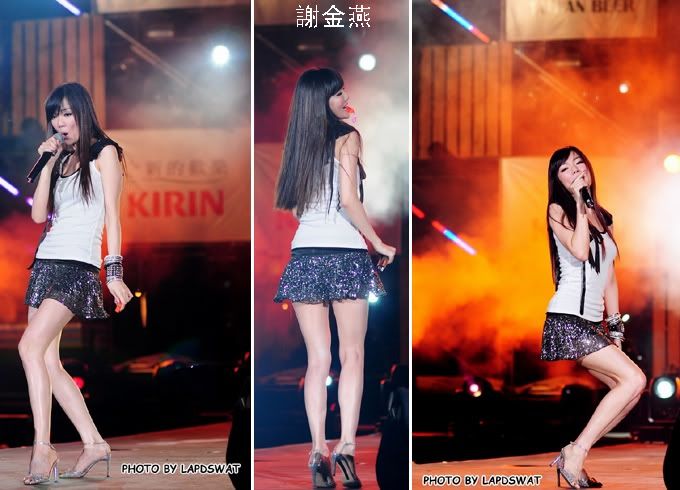 Could she possibly have the hottest legs in Taiwan?
More photos from the concert here>>
How do you like Jeannie Hsieh?