Today is my 5 years anniversary of travelling to Asia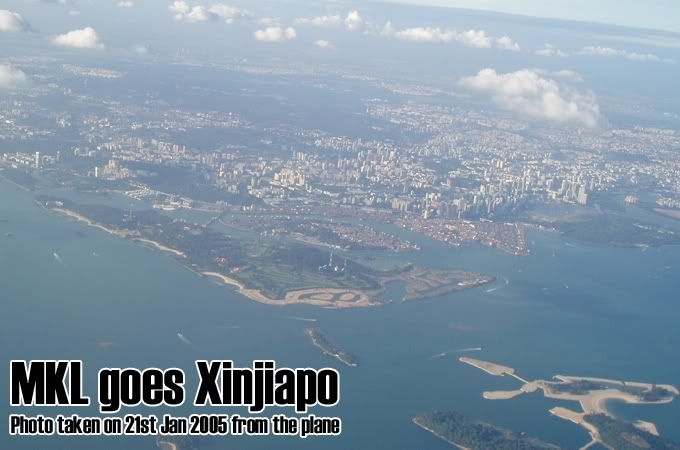 And that's why I want to commemorate this noteworthy moment: On 20th January 2005 I boarded a plane in Paris and flew 13h straight to Singapore. On
21st January 2005
my foot touched Asian soil for the first time. And to be precise, that happened at Changi International Airport in Singapore.
It was during a time, where I still studied and I had 1 month of semester holidays. I had saved up a big sum of money and wanted to do something extraordinary. It was pure coincidence, that I ended up in Singapore. I wanted to fly far and to warm place, because we had a cold winter around that time. I had someone from Singapore helping me and so she rented a room in an apartment for me. It was way cheaper than hotel. I was more of a backpacker at that time and I wanted to spend money for other things than accommodation.

After these things were settled, I could enjoy exploring the city. I have to say, everything was great: I saw the whole city with all its main sights and I even went on a short 3 days trip to Kuala Lumpur. At that time it was the best 3 weeks of my life and ever since I went on that trip, I continued going back to Asia, almost every year once. From that time on, I totally immersed myself in all things Asian (as it's obvious from my blog). I have a special bond with Singapore, it's a place I will never forget, because wherever I will go in the future, it will always remain my first Asian destination.
Here is my collection of my photos [29] I made during that trip. Please wait a little, it may take some time before they fully load. Thanks.
My Singapore trip started at
Changi Airport
and continued to
Tampines
, a lovely neighborhood in the eastern part of Singapore. I rented a small room in an
HDB block
and I felt like I'm living like a local Singaporean. It was a unique experience. Here's a little set of photos I took during my trip, a very small fraction of all the pics I took.
This was where I stayed. I miss the warm weather in Singapore, feels so good every day.
The toilet wasn't really a high standard, but I didn't mind. I was a student and used to it.
The room was small, but nice. I loved to watch TV, especially
Channel 5
.
I was amazed to see people carrying coffee in plastic bags. You won't see that in Slovenia.
One of my favorite shopping malls
The Heeren
. I spend a lot of time here.
I liked this old part of Singapore:
Kampong glam
('kampong' is Malay for 'village')
This was also one of my firsts: the coconut drink. Cheap and refreshing.
One of my fav dishes in the region:
roti prata
. Later I liked the similar
roti canai
in Malaysia.
Photo of my fav spot, a beautiful garden near the zoo. Read article here>>
Singapore has an impressive
downtown
. Many banks and offices are located here.
A statue of
Singapore's founder
. He's more like Singaporean Washington, not Obama :P
One of my favorite breakfasts, Delifrance in
Takashimaya
shopping mall. Yummy.
Singapore Chinatown
, located in Outram, is more of a tourist trap, but nice to see.
I found this statue somewhere on
Orchard road
, Singapore's most famous road.
One of my favorite parts of Singapore:
Sentosa
, a lovely island with nice little beaches.
Sentosa with the cute islets below, in the back ships and heavy industry. What a mix.
Singapore downtown seen from the
Esplanade
, a futuristic building resembling fly eyes.
A very colorful and clean neighborhood in Tampines. A lovely place to live.
Singapore
Botanic gardens
, one of my favortite spots. A must see, when you visit Singapore.
Never saw such huge cactus before. The climate is good for such plants to grow in Singapore.
Botanic gardens are full of small surprises, so it's really worth to take a long walk.
The so called Palm valley, a lovely spot, where Singaporeans love to gather for picnics.
There's so many turtles and ducks in a cute little pond. You'll even find koi fish.
One of my favorite photos ever taken during my travels. Ain't it lovely?

In my last days in Singapore, I looked for spots to swim, but I skipped
this place
, I chose Sentosa instead.
Last day before flying back to Europe, I spent in Sentosa. It was fun.
It took me one whole day to return home, after 15h of flying, I finally saw our mountains.
Almost landing in Slovenia... Reality was hard: A cold winter. I wanted back to Singapore!
This trip was a turning point in my life. It was really a great experience and I really had the best time in Singapore. Even if it was only 3 weeks, it was my very first trip to Asia and it was a great idea to start discovering Asia in Singapore. I highly recommend it to everyone, espeically if you're traveling in winter. You will fall in love with Singapore just like I did. And I still love the place.
What was your first destination on the other side of the world?
Have you ever travelled to Singapore? How did you like it?